Facility benchmarking for utility companies since 1995.
How the Utility Facility Benchmarking Program Works
The contents of the benchmarking program were developed based upon the topics of interest to IFMA Utilities Council members and remains a separate but recommended activity for council members. Each year, we review and update the program based upon suggestions and request of participants and the input of a Steering Committee.  The Steering Committee consists of representatives from a range of participating utilities to reflect the current issues of interest.
You can contact us to join the program or sign up right on this site.  You are assigned a participant code to identify yourself in the results, and information about your organization is only available to program participants. How-to guides are available, there is a Getting Started Webinar, Facility Issues will coach you through the process if you have any questions.
Then you assemble your data and enter it into our online forms or Excel template.  The data collected is to measure performance in key areas of cultural institutional facility management and to identify best practices and industry trends.  We use common industry data definitions which are provided on the forms and template for reference. If your data is well structured in your corporate systems or even excel files, it can be entered in just a few hours.
Facility Issues reviews and compiles the data per the program schedule and creates interactive business intelligence reports available to participants online (more on the results/reports below). Draft reports are available mid-way through the program to let you review and correct data as required. You can also download your data with our Excel template.
The program includes regular virtual networking meetings.  These meetings may include case studies, presentations on topics of interest, or town-hall type sessions where participants can ask about or share information on any topic of interest.
There are also Eastern and Western Regional Networking Meetings – typically a day and half meeting hosted by a participant to hear benchmarking updates, discuss topics of interest, and tour a facility. (*TBD for 2021)
During the year we also run Special Topic Surveys on current issues you are facing that are not covered in the structured benchmarking.  The results of these surveys are available to benchmarking participants (and anyone else who participating in them).
The Utilities Facility Benchmarking Results
The Executive Report compares several key facility metrics in an interactive business intelligence system.  The results include:  costs for utilities, building operations, janitorial services, building and grounds maintenance, building security, which comprise the majority of facility operation costs. The 2019 report had the following sections:
Organization & Property Demographics
Maintenance & Custodial Staffing
Costs by Type (custodial, maintenance, utilities, security)
Energy Usage and EUI
FCI
Rated practices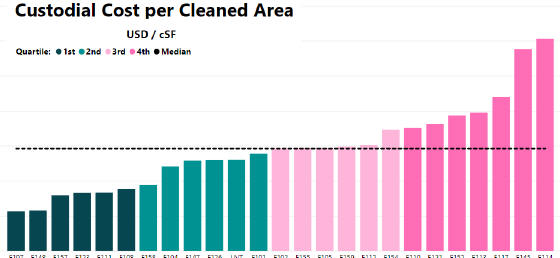 An example graph of custodial cost per cleaned area is shown above. Each participating organization is shown with a vertical bar. The various color shadings represent the quartiles and the horizontal black line is the median for the group.
You can filter the results by selected categories such as Type of Property, Property Size (groupings) and other demographic criteria depending on the benchmarking program.
Our Standard and Prepared programs include additional reports with data on topics such as:
Property SLA
Space (composition)
Supervisor & other staffing
Cost totals
Sustainability by quartile (various metrics)
Work orders
Projects
Site & grounds
Security
Technology practices
Practices employed: custodial, maintenance, conservation, space management
General comments & more
Questions & Support
We provide online and phone support if there are any technical questions, we have instruction documents and white papers to help you assemble and use your facility metrics, and periodically hold webinars to review new features and questions.
See which participation option is best for you or contact us using the form below with any questions about facility benchmarking for utilities.