Facility benchmarking for utility companies since 1995.
About this program…
This is the benchmarking group of the International Facility Management Association (IFMA) Utilities Council.  Started by staff at the Salt River Project, an electric and water utility in Arizona, this program was created to share and develop knowledge among facility managers of electric, gas, water, and telecommunications companies. Benchmarking participants gather and share data and best practices related to managing their facilities that supplement the other activities of the IFMA Utilities Council.
How we design and conduct the survey…
The group has a Steering Committee that guides development and revisions of the benchmarking topics each year to provide participants with useful information on the costs and other performance measures of the services associated with facility operations.
What is included in the IFMA Utilities Council Benchmarking Program…
The program includes a comprehensive facility benchmarking survey, special topic surveys that address questions about issues and practices beyond the benchmarking, and additional (optional) occupant satisfaction surveys.
In addition, participation includes 1-1/2 day regional networking meetings (east and west) where you staff can discuss practices, data, results, hear case studies, tour facilities, and ask questions of Facility Managers at other utility company participants.
What we benchmark…
The IFMA utilities council benchmarking program report compares costs for building operations, janitorial services, building and grounds maintenance, and utilities, which comprise the majority of facility operation costs. The 2019 report had the following sections:
Organization Demographics
Property Demographics
Property SLA
Space (composition)
Craft staffing
Supervisor staffing
Other staffing
Cost totals
Costs by quartile (various metrics)
Sustainability by quartile (various metrics)
FCI
Work orders
Projects
Site & grounds
Rated practices
Technology practices
Impact of practice: custodial, maintenance, conservation, space management
General comments & more
In addition, the IFMA utilities council benchmarking program also includes section on services commonly managed by the facilities department and quality ratings from a standardized occupant satisfaction survey:
Copy & Reprographics
Mail Services
Moves & Relocations
Food Services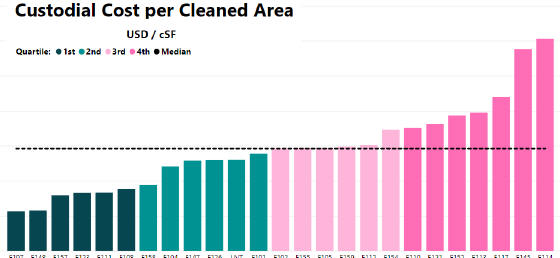 An example graph of custodial cost per cleaned area is shown above. Each participating organization is shown with a vertical bar. The various color shadings represent the quartiles and the horizontal black line is the median for the group.
or Contact Us if you need an invoice or purchase order.
Want to begin an IFMA utilities council benchmarking program but need help? Read more about the facility benchmarking support services we offer.