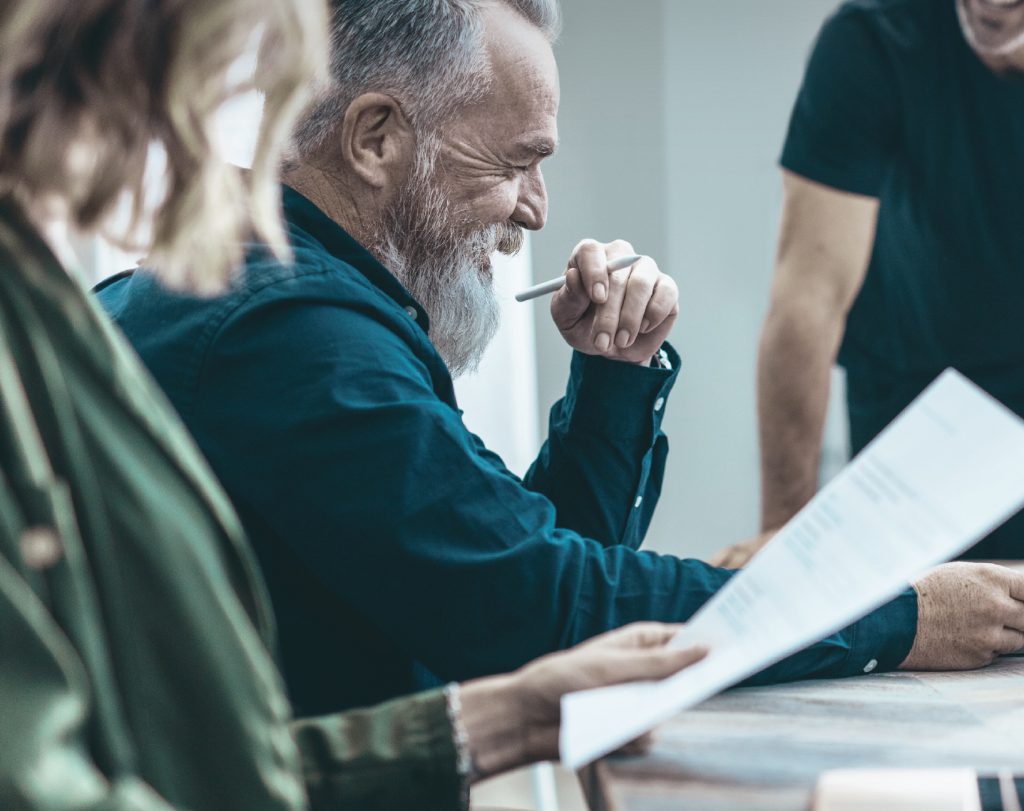 Leading Facility Managers Use Facility Benchmarking as Straightforward Way to Document and Improve Performance
To Quantify How They Stand – Benchmarking can demonstrate your facility operating performance is competitive or reasonable.
To Cut Through the Data Noise – Benchmarking will identify areas that need attention, and those that don't.
Because it is Quick and Understandable – Benchmarking does not take a lot of time or effort, and the results communicate well.
To Learn and Share – Discuss industry best practices, processes, and technology with your peers.
One tangible benefit of facility benchmarking is facility related cost savings, which can be significant. For example, our Research Facilities group saved more than $158 million over a 5-year period — an average of about $1.25 per square foot annually
Benchmarking proves to our principle funders, the Canadian Government's Treasury Board, that our buildings are among the top performers among many international museums and that requests for additional funding for critical infrastructure repairs are verifiable and legitimate. As a result, our museum has secured additional funding for the next five years to undertake major building repairs and upgrades.

Guy Larocque, Canadian Museum of Civilization
I have utilized the benchmarking process to justify/right size staffing levels. In addition, the benchmarking data has been a valuable resource in evaluating strategies around outsourcing and in-sourcing functions within the Facilities Management organization.

Thomas R. McDermott, Facilities Operations, Northeast Utilities Service Company
Addressing Changing and Competing FM Objectives
Facility managers have to balance many different objectives including quality of workplace, space utilization, safety, compliance, reliability, environmental control, cost management, and sustainability. Changing regulations, business priorities, and technology can make it difficult to balance these objectives.
A common challenge is to understand and demonstrate good performance levels and recognize underperforming areas that need attention. Benchmarking is a proven technique for putting your performance in context whether you are learning how you compare or documenting that you are competitive.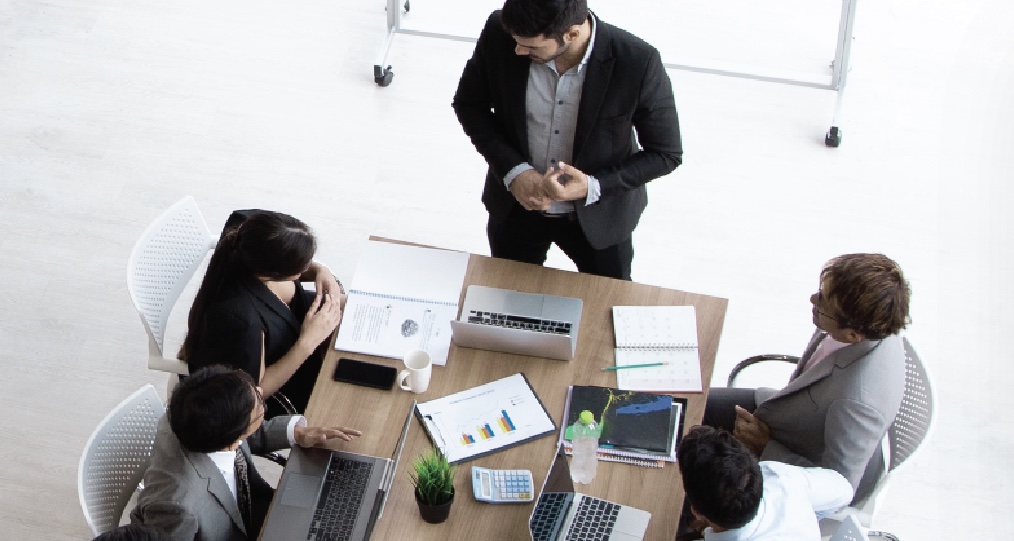 Why Facility Benchmarking?
It is Easy
It is very easy and affordable to do. All you need is your data to compare, and it can be done in just a few hours.
Our programs include data collection templates, metrics, and support refined over 20 years based on changing needs and participant feedback. Options include DIY to minimize cost and D4U if you don't have available staff.
It is Understandable
The results are intuitive to understand. Comparison charts communicate well with both leadership and staff.
The comparison metrics clearly identify where you are a leader, competitive, or lagging so you can quickly identify areas that need attention and those that do not. Interactive reporting lets you explore the data and adjust charts.
It is Real
Results are based on actual performance (not models), and therefor show what is reasonable and achievable.
Shared practice meetings support discussions with other participants help you learn the factors that contribute to better performance and lessons from others on the best ways to implement those practices/technologies.
---
Types of Facility Benchmarking
Benchmarking is a continuous improvement process where you compare data about your organization's facility operations and facility performance metrics with others. The results show how well you perform on selected metrics and are used to identify best practices that help you improve results and reduce costs.
Types of benchmarking vary based upon what you benchmark, what you compare with, and the purpose. Here are three examples for facility managers:
Where you compare specific attributes
such as operating costs among your own facilities or to a target such as budget
Where you compare a full range of
metrics on your facility assets and facility
operations with others like you.
Where you compare a functional business
processes such as energy management
with those who are best in class.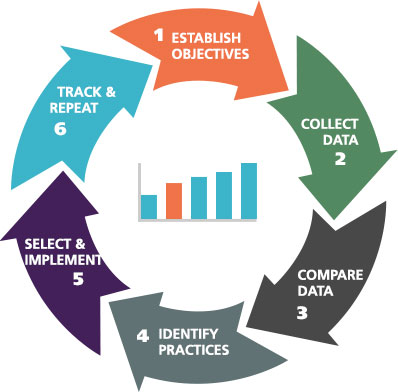 Key Steps in the Facility Benchmarking Process
Organizations that implement regular facility benchmarking programs experience noticeable improvement/savings in their operations, and it is used by most successful organizations today.
An ongoing benchmarking program measures and shows progress, measuring the impact of changes over time. Read more about the process.
Getting Started. Getting Results.
What you need to start facility benchmarking:
The desire to evaluate your current operation.
Data about your facilities and operations.
An open mind about your performance and potential alternatives
The willingness to share your lessons learned with others.
What you gain from facility benchmarking:
Independent documentation of where your organization's facility performance is reasonable or competitive.
Recognition as a leader in those areas where your performance excels, and ability to help others improve.
Confidence in identifying areas of concern and the potential magnitude of improvement possible.
Awareness of leading practices by other organizations and behind the scenes insights from those who use them.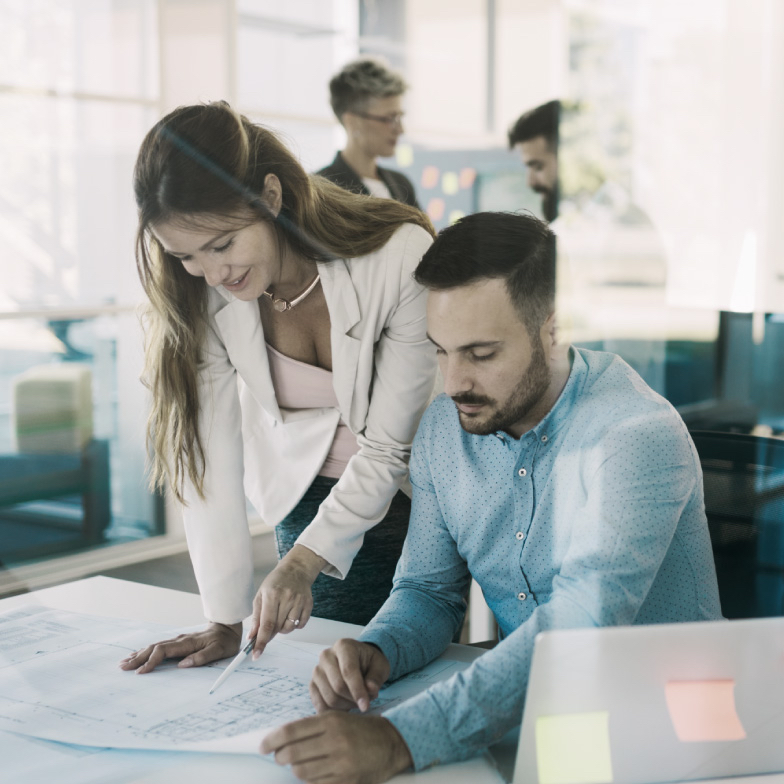 Facility Benchmarking Programs
Facility Issues has ongoing industry-specific benchmarking programs for Cultural Institutions and Utility companies, and a Facility Managers Round Table program for facility managers of all industries, especially those who manage research facilities, campuses / large complexes, multi-site portfolios, and critical facilities.
Select an industry below to learn more about our benchmarking programs.
.
Do Your Facility Metrics Meet Your Needs?
(By "metrics" we mean the full range of data, KPIs, scorecards, and reporting on your properties and their operation.)
Facility Issues can help you get started with provide one-time services, benchmarking, or ongoing assistance with your facility analytics. But first, take this self-assessment of your situation and objectives to clarify what you need and want.