Facility managers sometimes wrestle with problems ranging from having the right budget, the right staffing, the right SLAs, the right data systems/technology, or even the confidence that their facility assets are right to support the organization's upcoming needs.
Maybe you call it a strategic facility plan, long-range facility plan, facility master plan, or something else. Having a strategic facility plan provides an understanding of what properties your organization needs now and in the near future, and why. It also can be having the 5-year budget, staffing plan, or system implementation plan to accomplish and support the suitable facilities and operations.
Get Strategic
In the "old days," we would have 10+ year master plans for any property of size. Now the many organizations get by with a one-year budget, with or without an agile plan of objectives and priorities. This has been evident with the massive confusion about the workplace approach post-pandemic. But an agile planning process can be applied if you have limited time or resources.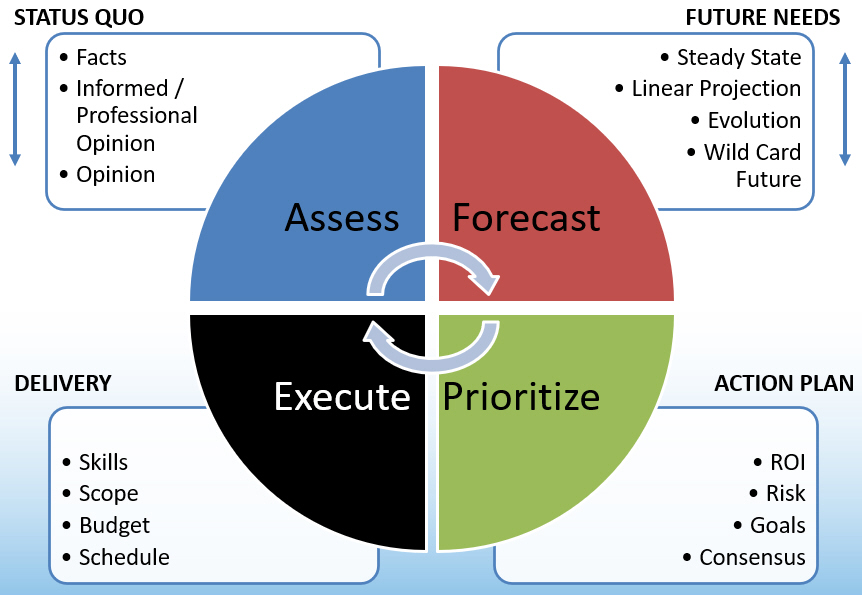 Facility Issues Can Help Get You on Track
Whether it is your facility assets or your facility operations, we can help you clarify your needs, and outline an approach and justification for an appropriate action plan.
Confirm your current situation, enable discussions on future needs. Then focus your scarce time and money on the most valuable activities. The important thing in strategic planning is not the details in the plan, but the direction it provides for the many ongoing, inter-related decisions and activities on your facilities.
What emerging business/technology needs are going to have to be supported?
What are the space implications?
Which facilities stay status-quo, be changed or divested?
Where will investments be required, how much and when?
What resources will be required to provide suitable service levels?
---
In addition to strategic facility planning services, Facility Issues also provides other related services:
Facility Metrics and Dashboard/Scorecard Support | Facility Metrics Training/Workshops
---
Do Your Facility Metrics Meet Your Needs?
(By "metrics" we mean the full range of data, KPIs, scorecards, and reporting on your properties and their operation.)
Facility Issues can help you get started with provide one-time services, benchmarking, or ongoing assistance with your facility analytics. But first, take this self-assessment of your situation and objectives to clarify what you need and want.