Description
Why Location Assessment (Service Center Travel Time)?
An important part of service centers is their location relationship with the field service area. Benchmarking travel time provides quantiative data on how well your facilities are located within your coverage areas. Leading utilities are optimizing the number and location of service centers to balance customer service and cost management.
---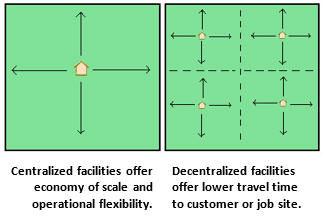 Location analysis is a key part of service center planning because each facility is typically part of an extensive network of field operations headquarters. Consolidation / decentralization issues such as travel times need to be considered in the service center plan to achieve the appropriate balance for each situation. The key is having the right facilities in the right place.  This means that service networks supporting field forces need to balance travel times with facility locations. (Note: with changes in operations it is becoming more about cost than response time – read more about service center facility trends.)
By utilizing travel times and workload modeling, from meter locations, service center location benchmarking can help you with your facility planning:
to support the need for a new service center location.
to identify the need to consolidate existing service centers.
support the business case to make needed facility upgrades (invest in current locations).
provide operating groups with optimum trip time modeled staffing levels by service center.
rate case applications justifying new facilities or facility consolidation programs
How we perform the assessment
This type of assessment has previously only been available as a part of long range service center planning consulting assignments. It is a common first step to assess your service centers locations to determine if further analysis is required.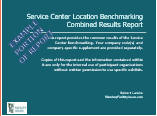 We do a custom analysis with your data and then compare the results with our similar historical data from studies for other utility companies.  The nature of this program is that all participants' data is anonymous. You receive a custom report with your data and the comparison (example).
What is Required?
A Service Center Location Assessment will require the following information:
Company name and Contact person
List of locations and addresses or lat/long
Map of your service territory
Data file of geographic coordinates for meter locations (this is typically the easiest simple data to use; can discuss alternative data options)
Want help with long range facility planning? See Strategic/Long Range Service Center Planning
Flat rate pricing below available to single operating company.  Contact us to discuss separate studies for multiple operating companies or combined service operations (say gas and electric).