Description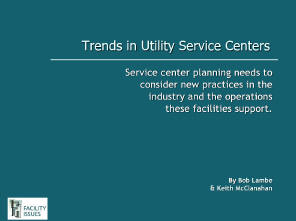 Service Center Facility Trends: How the utility industry works is changing, and the way service center facilities support these vital operations is evolving as well.  This presentation is an overview of some past, present, and emerging changes in the electric utility industry that impact service center planning.  Similar industries such as gas, water, sewer, and communications have many of the same issues, but some are specific to each particular industry. Download Whitepaper on Service Center Trends
Service Center Planning Services
Facility issues can help with the right level of study for your situation from location benchmarking to a full long range facility plan. Savings opportunities from our studies have ranged from $250,000 per year to $40 million NPV with corresponding reductions of thousands of pounds in annual CO2 emissions.
We have found that an iterative, phased approach works best with a planning project of this complexity.  The overall process is shown linearly for simplicity, but the approach is to cycle through the steps repeatedly as appropriate.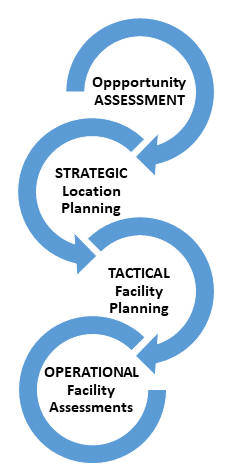 The opportunity can arise from business needs or facility assessments and an initial assessment will validate and refine the planning objective(s) and potential value opportunity.  Service Center Location Benchmarking can be the first step to see if there might be an opportunity.
Then the strategic level planning will evaluate the alignment of the properties with the anticipated business needs to modify the opportunity and/or identify facility specific projects. Business cases may be prepared during this step.
The tactical facility planning is the start of the traditional project planning process and will advance specific facility projects.  The implemented projects will become reference points that refine the strategic plan.
The operational facility assessments will establish and refine the facility operations based upon the implemented projects and identify potential opportunities to evaluate.
---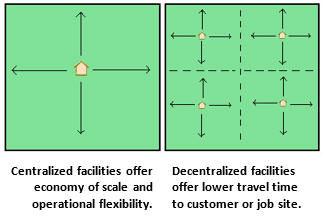 Location analysis is a key part of service center planning because each facility is typically part of an extensive network of field operations headquarters. Consolidation / decentralization issues such as travel times need to be considered in the service center plan to achieve the appropriate balance for each situation. The key is having the right facilities in the right place.  This means that service networks supporting field forces need to balance travel times with facility locations. Whether you want to properly locate new facilities, consolidate your existing properties, improve customer service, or reduce operating costs, location optimization as part of your service center planning helps you focus investment on those properties that best support the business. 
Tips for your long range facility planning:  Download Whitepaper on Service Center Planning.
---
Contact us to see if we can help you like we did for:
Allegheny Energy
Columbia Gas of Pennsylvania
ComEd
CPS
DTE
Duke Indiana Power
Eversource
National Grid
Northern Indiana Public Service
PG&E
PPL
PSEG
San Antonio Water System
Review Other Utility Facility Benchmarking Options