Facility management benchmarking is a simple and affordable way to both measure your performance and identify potential improvement opportunities.  All it requires is for you to have a good set of data about your facilities and your operations, and a willingness to see where the data leads.
We discussed why leading organizations participate in facility benchmarking programs, and how the benchmarking process works. Now we will discuss how you can use benchmarking results to improve your facilities and operations.
How to Use Facility Management Benchmarking Results
Essentially facilities benchmarking provides a context for various facility metrics. The primary ways that benchmarking results are used are to:
Evaluate and document performance levels
Identify improvement opportunities
Communicate performance levels and opportunities
Forecast future needs
Each of these primary uses has many variations, with some of the ways you can use your benchmarking results to improve your facilities and operations describe further below. (These are based on Facility Issues' programs – some uses may not apply to other programs.)
Evaluate and document performance levels
There are a multitude of facility management benchmarking performance evaluations that can be performed during the benchmarking process. The most common facility performance is typically operating costs, and sometimes facility management benchmarking is just used to demonstrate you have a reasonable performance (to executives, boards, and regulators), or even superior facility operations performance.
Other performance types you can evaluate with the facility management benchmarking process:
Space utilization
Facility operating costs by type
Compliance with SLA
FM service provider performance
FM staffing levels
Occupant satisfaction
Facility reliability (risk)
Facility condition
Capital allocation (1-4-1 replacement)
Sustainability criteria
Cleaning services
Maintenance services
Work ratios (preventive vs corrective)
Facility-related services (mail, food service, reprographics)
Service delivery time
Facility project performance
Work ratios (preventive vs corrective)
Physical security
Facility safety
Environmental control
Business metrics (facility cost as % of total payroll, sales, etc.)
These performance evaluations can be with respect to your other facilities, a selected peer group, your prior year's performance, or a designated goal.
See How You Compare on Specific Metrics
We suggest that you first review facility management benchmarking results to see how your metrics compare in general (should take less than an hour). Make a simple list of things likely to be of interest to your organization, items you may want to explore more in the future, and items that need a deeper review right now. Then, based on your benchmarking objectives and this list, you can go over those areas of interest to identify questions and action items.
Our facility management benchmarking program reports show your position (with your anonymous ID code) so you can quickly see how you specifically compare to both the median and the overall group for many of the metrics. This display provides you with a much richer context for how your performance compares than just a report listing the median value.  In just seconds you can see not just if your value is high or low, but how high or low in the context of the overall group variation. Some metrics will have much more variation than others and this is immediately visible on the chart.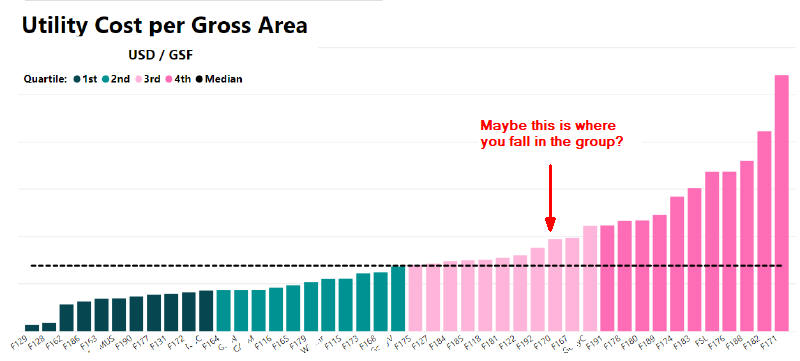 We use medians (rather than averages) to reduce the variation caused by outliers without having to eliminate extreme high and low values (these could be due to bad data or might be accurate due to unusual circumstances).
The comparison of where you stand provides the first level of analysis and can be used to document that your performance is/is not meeting a specified goal and is/is not reasonably competitive for a given metric.
Rate Your Company's Benchmarking Progress Results Against Your Goals
We believe the most valuable use of facilities benchmarking results is to see if your performance meets your goals.  You will recall that identifying your objectives was the first step in the process.  If this is your first-time benchmarking or if you didn't clarify your objectives, you may not have goals set, so use the median as your guide.
Your own trends are typically the most useful evaluation to document improvement or identify improvement opportunities. This is one reason benchmarking is best when it is an ongoing program with the primary goal of continuous improvement.
Identify improvement opportunities
Evaluation of your performance on individual metrics will start to help you identify potential improvement opportunities. Based on the comparison, you can quickly identify those areas were your performance is good (or good-enough) and areas where it is not.
Knowing which areas do not need a lot of attention can be useful since it lets you take the time to focus on other areas. Unless you have a specific objective for a metric, any result that puts you between high first quartile to low third quartile is probably okay.
The areas recommended to review are those where you score significantly above the median or very low in the first quartile. These are the areas likely to be of concern and potential opportunity.
It may seem obvious why you should look at metrics where your performance is in the fourth quartile. These are areas where most others are performing better so you might be expected to be able to improve your performance.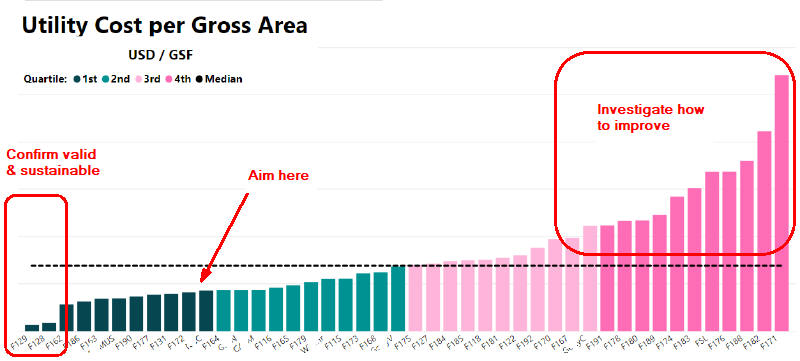 It is less obvious why you should look at metrics where your performance is in the top of the first quartile. The reason for this is for you to confirm that you are not scoring well by unconsciously under-serving (lower service level, under-investing, etc.). You will want to confirm that this is due to an organizational mandate and the implications are understood (not likely to be sustainable for the long term). It is not recommended that you use benchmarking to facilitate a "race to the bottom" in order to score the lowest on cost.
The one case where you truly should be substantially better is where your organization has implemented a "step function improvement" related to this metric. An example of this is using onsite renewal energy to reduce your annual energy costs or changing from preventive maintenance to condition-based maintenance. (Incremental improvements are small steps to improve how you do work such as adopting a best practice. Step function improvements are re-engineering the entire process using automation and emerging smart building technologies.)
Explore Areas of Concern and Areas of Opportunity with Facility Management Benchmarking
Once you have identified the areas to review, you need to explore them a bit to determine if they are areas of concern or areas of opportunity. Our interactive reports let you select the metrics of interest and customize the criteria so you can explore the data for additional insights.
Areas of concern might be where your performance is adversely affected by factors beyond your control.  This could be due to physical factors (your location), organizational factors (labor policy), or mission requirements (unusual service levels).  In these cases, your best approach may be to manage the impact and continue to monitor until a suitable opportunity arises.
Areas of opportunity are those where your performance is above the first quartile and there are likely to be action you can take to improve.  One caveat- be sure to look at complementary or opposing metrics to understand the potential implication of optimizing one metric at the expense of another.  For example, excessive reduction of maintenance cost/area may impact your facility condition resulting in an undesirable result.
Identify the Savings Potential from Best Practices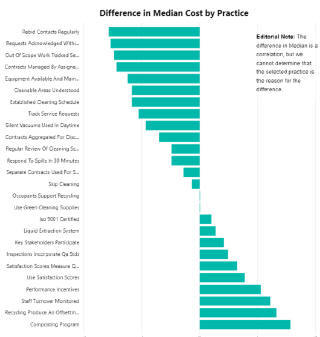 You can estimate the potential magnitude of each area of opportunity by calculating the difference between your performance value and that of your goal (say edge of Q1/Q2). This can help you determine which opportunities to pursue, along with the anticipated difficulty of making the change.
See the potential impact of different facility management benchmarking practices on operating costs to better understand the likely opportunity or cost impact of practices that you are considering. Some of Facility Issues' benchmarking programs estimate the impact of "best practices" on operating costs to help you identify which to pursue. (Some practices increase costs because their purpose is to improve sustainability or other non-financial performance criteria, so understanding potential budget impact can be useful.)
Draft an Action Plan for Improvement
Now that you know your potential facility/facility operations improvement opportunities, you need to select a few for action.  Start with those that align with your current organizational priorities – if you have a significant sustainability initiative then facility-related sustainability actions can fit nicely.  Then consider those that impact your core business – the reason you have facilities is to support your organization's mission and that should be your primary driver.  Finally, select one that reduce facility costs, improve facility conditions, improve service levels, or improve occupant satisfaction.
The action plan from your benchmarking review will have to be integrated with action plans from any number of other department and organization initiatives, so 1-3 proposed actions are probably sufficient.
Communicate performance levels and opportunities
Facility management benchmarking results are usually intuitive so they can be used to communicate with different audiences. Comparison charts illustrate your performance with respect to your goals, and trend charts illustrate progress.
Like most communication campaigns, you need to be clear about the message you wish to share and select just a few supporting sections from the benchmarking report.
Senior Management – Summary Memo or presentation (suggest 5 pages max) with Key Findings, Proposed Action Plans, and the Decisions / Support you are requesting from them.
FM Leadership – Summary of results with list of significant items for all metrics, list of improvement opportunity candidates, list of data issues or further analysis to be considered, and draft action plan (your recommendations of 1-3 things to pursue in next year).
FM Organization – Key charts related to function (by department) in visible locations; more detail available for those interested.
Employees/Occupants/Public – Use "Sound Bites" or Infographics on where you stand and what/why of improvement initiatives (especially any that change service levels or impact space/services)
Forecast Future Needs
Facility management benchmarking data provides a good reference when you need to forecast future needs, especially for something where you do not have your own historical data. Some examples are:
Project your likely space needs associated with an increase in occupants/employees.
Forecast facilities budget implications associated with new or expanded facilities (more space).
Forecast facility management staffing implications associated with changes in your facilities.
Estimate the facilities budget implications associated with changing service levels, different policies, or other operational changes.
"I have utilized the benchmarking process to justify/right size staffing levels. In addition, the benchmarking data has been a valuable resource in evaluating strategies around outsourcing and in-sourcing functions within the Facilities Management organization." —Thomas R. McDermott, Facilities Operations, Northeast Utilities Service Company
Using Your Facility Management Benchmarking Results
Most of our participants review their benchmarking results to understand how they compare and to identify areas of potential opportunity for improvement (improved quality, lower cost, lower risk). It provides a basis for not just where improvement is possible but also how much value is realistic.
Some participants will share results and trends with their facility staff, some use portions of the report as part of their department's annual metrics to executives. Some use data from the report as the basis for proposed budgets when major changes are proposed; others use it for backup in reviews with regulators and during funding reviews.
YOUR NEXT STEPS TO START YOUR FACILITY MANAGEMENT BENCHMARKING PROGRAM:
Read about Facility Issues' benchmarking programs…
---