Facility benchmarking for cultural institutions and museums since 1997.
About this program…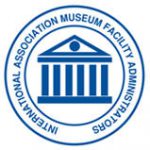 This benchmarking group was created by the Canadian Museum of Civilization (now Canadian Museum of History) and is designed for those who manage museum and cultural institution facilities. Over 130 institutions from nine countries have participated since the group started. The survey is endorsed by IAMFA, the International Association of Museum Facility Administrators.
How we design and conduct the survey…
Each year, the Steering Committee refines the content of the cultural institution facility benchmarking program survey. This Steering Committee consists of representatives from museums and cultural institutions across the globe.
The online survey is designed to measure performance in key areas of museum and cultural institutional facility management benchmarking to identify best practices and industry trends. There are both online forms and Excel templates to enter the data – and you can export your data to an Excel file for your records.
Results are summarized in a business intelligence report and presented at the annual IAMFA conference.  Starting in 2019 there are multiple reports with more to come in 2020.
What is included in the cultural institution facility benchmarking program?
The cultural institution facility benchmarking report compares costs for utilities, building operations, janitorial services, building and grounds maintenance, building security, which comprise the majority of facility operation costs. The 2019 report had the following sections:
Organization Demographics
Property Demographics
Property SLA
Space (composition)
Craft staffing
Supervisor staffing
Other staffing
Cost totals
Costs by quartile (various metrics)
Sustainability by quartile (various metrics)
FCI
Work orders
Projects
Site & grounds
Security
Rated practices
Technology practices
Impact of practice: custodial, maintenance, conservation, space management
General comments & more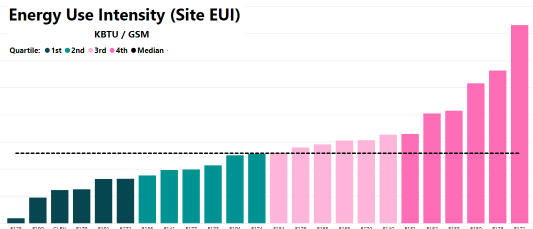 An example graph of energy use intensity is shown above. Each participating institution is shown with a vertical bar. The various color shadings represent the quartiles and the horizontal black line is the median for the group.
In addition, participation includes a registration at the annual Benchmarking and Best Practices Workshop – a full day pre-conference session at the annual IAMFA meeting to review results, hear case studies, and ask questions of Facility Managers at other leading cultural institutions.
Your Next Steps To Start
See which participation option is best for you or contact us with questions about benchmarking for cultural institutions.
Download a one-page summary of the program
---