An ongoing benchmarking program measures and shows progress, measuring the impact of changes over time. What is the process, what does it take, and how can we help…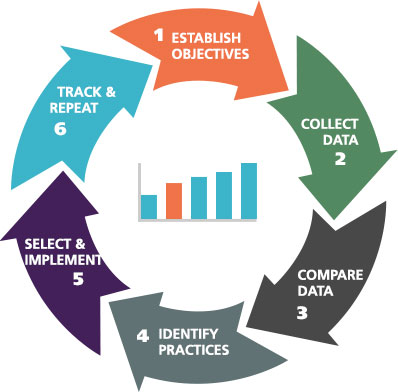 Key Steps in the Facility Benchmarking Process
We believe there are six steps in the benchmarking process, and you can (should) get value from each step:
Establish Objectives to clarify what you want to accomplish.
Collect (assemble and normalize) your Data.
Compare Data with a target / peer group.
Identify apparent best Practices to consider.
Select & Implement which changes / practices to try.
Track your progress & Repeat the cycle.
1. Establish Objectives. This key first step is to clarify what you wish to accomplish. What topics are of interest and what metrics can be evaluated? You also want to identify the type and extent of benchmarking you should do based upon your objectives.
2. Collect & Normalize Your Data. Each participant assembles the data that they wish to benchmark (some basic items are required and other sections are optional). Typically, there is a need to "normalize" some of it to be consistent with the agreed data definitions. The data can be assembled in an Excel template or entered in a series of online screens, organized by topic. There is a close relationship between facility benchmarking and facility metrics, measures, and KPIs.
3. Compare with a Target/Peer Group. Facility Issues analyzes the survey data submitted and publishes comparison reports with the results. We distribute these reports to members online and present summary results at best practice/association meetings. Each participant can see where they stand on all areas for which they submitted data.
4. Identify Apparent "Best Practices." The real value in the benchmarking process is understanding how other organizations are doing similar jobs for less cost, or better performance, or both. Facility Issues' metrics to identify the organizations / sites with the best apparent performance, and then discussion is required to confirm it is not the result of "under-performance." The Best Practices meetings provide a forum for discussion about the practices used and lessons learned in implementing them.
5. Select Changes To Implement. Based on what you have learned about practices that have benefited others, you can select those that meet your objectives, provide significant improvement opportunity, and fit your organization culture for implementation at your own organization.
6. Tracking the Benchmark Progress. After implementing changes in your operations, it will be important to monitor costs and occupant satisfaction. This will tell you whether these changes are successful or require adjustment. The easiest way to measure progress is to re-benchmark; each cycle lets you build on the prior one and it may take a couple years to measure the benefits of some changes in practice.
"Just completing the questionnaire provided suggestions on ways to improve our operation."

—Carnegie Museums
What Does It Take To Participate in a Benchmarking Program?
Some benchmarking programs only include the first three steps and end with a published report that may just show the composite results. Typically, you fill out a form and then get a paper / PDF report. These are typically free or low-price options and can be useful if you just want to know the group averages.
Custom benchmarking services may include doing all the work for you such as collecting your data, performing a custom analysis of the results, drafting recommendations for you, and presenting to your leadership team. These services, while expensive, can be useful to "jump-start" some improvement effort or help with major organization review / re-design.
Facility Issues provides benchmarking programs in the middle (with additional services available if your organization wants help with data or analysis). Our system helps you track, collect, and submit your benchmark process data. We answer questions and provide guidance throughout, and the interactive online reporting lets you see where you stand and allows you to explore the results. This combination of self-service with technical support makes a continuous benchmarking program affordable, letting you use it as part of your ongoing facility metrics and deciding when and where more intensive effort is warranted.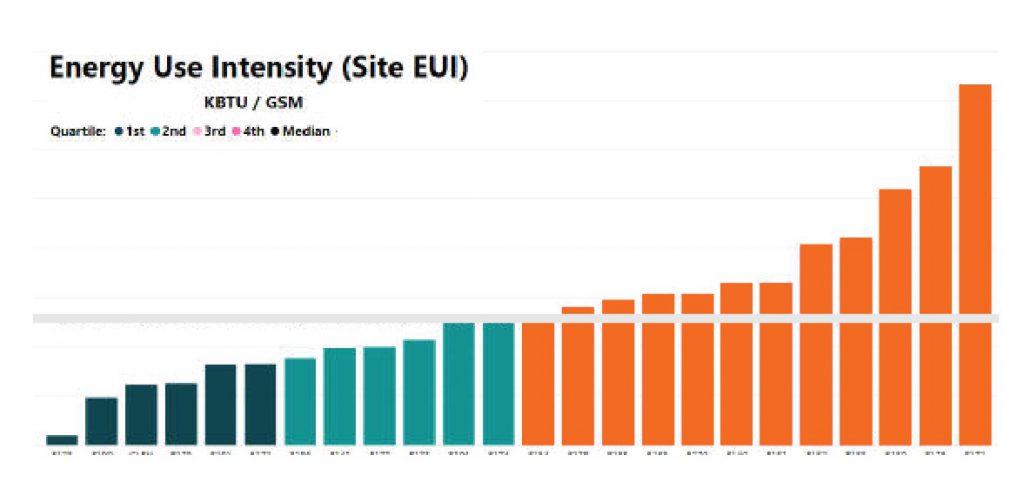 How do we help you get the most from your facility benchmarking?
We believe in continuous improvement, so our facility benchmarking programs have evolved over the past 20 years. Here are the ways we work to streamline and support you throughout the process:
1. Update for Changing Needs.
Each Facility Benchmarking Program has a steering committee to guide metrics of interest and identify best practices and industry trends. Each year the program is updated for emerging concerns in addition to the core data related to facility management.
2. Simplify Data Collection.
We use self-reported data to make our programs easy and affordable.  Facility Issues provides templates with instructions and definitions to assemble your data. A Getting Started webinar and instruction documents help new participants. Technical support and answers about the data or system are provided throughout the program.
3. Easy Data Comparisons.
Our benchmarking program results are provided in a business intelligence system with graphs, charts, and tables for various metrics. A Results Review webinar and instruction documents help your staff understand how to use the system and interpret the results.
4. Identify Emerging Practices.
The list of practices used is continuously updated and included in the reports. Some of our programs include meetings where you can discuss common issues, share lessons learned, compare practices, and ask questions of other participants.
5. Support Action Plan Development
This step is really up to you but we provide suggestions on how to identify areas of greater impact, how to select changes most appropriate for your situation, and can develop recommendations as an additional service if desired.
6. Report Progress Trends.
Each of our reports includes the results for past five years so you can see the trends for years in which you participate. Benchmarking is most useful as an ongoing program to track incremental progress & step-function improvements.
Facility Benchmarking
Leading Facility Managers Use Facility Benchmarking as Straightforward Way to Document and Improve Performance