A benchmarking group for those who manage research facilities.
About this program…
The research facility management benchmarking group primarily represents those who manage research facilities and has helped participants save an average of about $1.25 per square foot annually. Government, corporate, and academic organizations are all welcome to participate. This benchmarking group grew from a private program started by IBM two dozen years ago to include a number of private research organizations and government laboratories
How we design and conduct the survey…
The group has a Steering Committee that guides development and revisions of the benchmarking topics each year to provide participants with useful information on the costs and other performance measures of the services associated with facility operations.
What is included in the research facility management benchmarking program…
The program includes a comprehensive facility benchmarking survey, special topic surveys that address questions about issues and practices beyond the benchmarking, and additional (optional) occupant satisfaction surveys.
We incorporate data from all participants into a combined, interactive report so you can explore the data and customize displays compare your costs to those of other high-performing organizations.
Based on participation and interest, the research facility management benchmarking program includes an optional 2-3 day best practices / networking meeting, where participants can share and compare information.  Participating organizations are encouraged to host this meeting and provide a tour of their facilities (registration cost for other participants).
What we benchmark…
We compare costs for utilities, building operations, janitorial services, building and grounds maintenance, building security, facility chargeback, and more.  Along with these costs, the topics listed below account for about 60–75 percent of the questions.
Space utilization
Ratios of number of workers
Outsourcing
Sustainability measures
Costs for:

Janitorial
Maintenance
Security
Utilities
Environmental Health and Safety
Chemical Services
Offsite waste and recycling

Best practices in:

maintenance
janitorial
utilities

Organizational structure

Mission and vision statements
Sharing experiences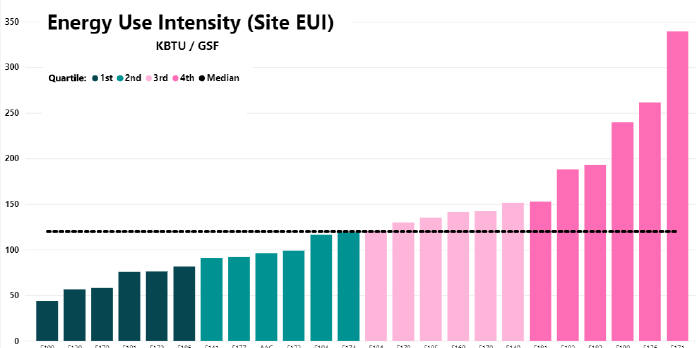 An example graph of energy use intensity is shown above. Each participating institution is shown with a vertical bar. The various color shadings represent the quartiles and the horizontal black line is the median for the group.
or Contact Us if you need an invoice or purchase order.
Want to start a research facility management benchmarking program but need help? Read more about the facility benchmarking support services we offer.