We are frequently asked about example facility metrics – what to track, what to report, etc.. So we put together the list of some facility management metrics below as an initial reference. You can download directly by right-clicking on the link and saving the document to your computer, tablet, or phone.
Facility Issues provides these examples as a service to its customers and the facility management community to be used as a starting place only. Use with judgement because your specific metrics need to reflect your organizational culture and priorities. There is also an important distinction between metrics about your facilities and metrics about your facility operations (facility management). Both are important, but for different reasons.
We typically work with our participants to understand their situation in recommending metrics and KPIs as part of developing a customized facility management scorecard.
Example Facility Metrics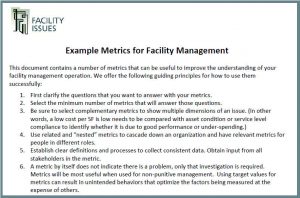 We welcome constructive criticism, and suggestions on how to improve this information can be submitted via the contact page.