Smart buildings, machine learning, artificial intelligence, the internet of things are some of the emerging tools for more effective and efficient facility management. In the meantime, facility managers are facing increased expectations for facility utilization, reliability, safety, wellness, and sustainability with budget restrictions and skilled staffing constraints.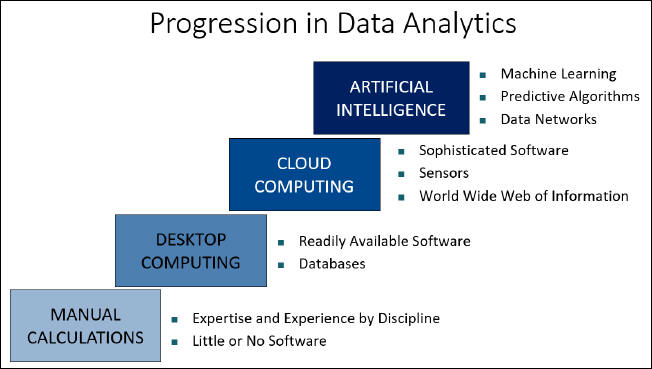 Even as we implement these more advanced technologies, we still face the same basic questions about facility data:
Why are metrics useful for facility management?
What facility metrics matter?
How can we use the variety of potential facility metrics and KPIs?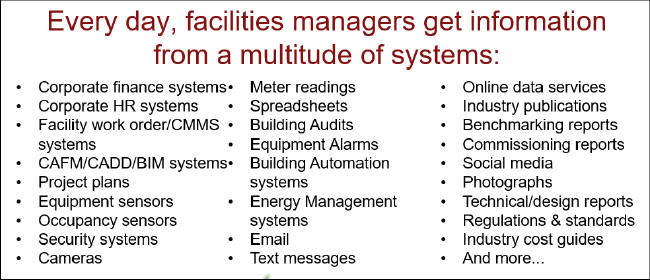 Why the Interest in Facility Management Metrics and KPIs?
Most facility managers are bombarded by data and information daily. The average organization has over a dozen systems that facility managers use, plus mobile apps, most of which send text and email in addition to those sent by their staff, service providers, managers, and building occupants. It seems like this is enough data – why care about facility metrics?
Facility management metrics and KPIs (key performance indicators) can help by organizing this facility data to make it easier to scan and understand. Metrics can help us cut through the noise, detect things of interest, and identify actions needed. In other words, we can use metrics to more quickly find information of value to us at this moment.

This is not a new phenomenon—our perception of the world is selective and has been shaped by years of evolution to help us focus on things essential for survival. in the face of the information explosion, this results in overload or certain information not making it through our perception filters. Using metrics can provide a frame of reference that can help us see what we want to look for in the forest of data.
Short digression on perception if you are interested: A lighter look at the perception challenge at the Invisible Gorilla (the door study in particular shows that about half the time we do not correctly perceive who we are talking to) and technical papers about human perception and illusion and that we perceive the world through our current frame of reference.
Facilities management performance metrics are an important way of using your facility data and help to align the focus of your facility team around the factors considered to be significant by you and your leadership.
Typical Uses of Facility Metrics and KPIs
Uses of facility metrics and KPIs correspond with the key functions of facility management.
The most frequent use of metrics is to help us stay on track by measuring progress towards defined goals:
General metrics help manage information overload and identify things that need our attention (management by exception).
Facility project metrics provide information about the project progress (cost, schedule, quality).
Facility management metrics provide information about compliance with established service levels (cost per unit, response time).
Building system operation metrics provide information about equipment health and reliability (temperatures, pressures, vibration). This is an area where machine learning and smart building systems have immediate application!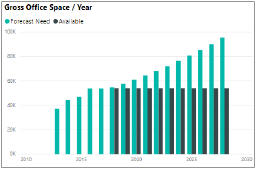 The next most common use of facility metrics (and facility data in general) is for planning and forecasting:
Facility planning metrics provide information about the likely or desired scope of the facility (size, location, budget, capacity).
Forecasting includes both facility needs (say space, based on hiring) and budget/staffing (based on space and performance metrics).
Benchmarking uses a variety of facility metrics to compare your facility and operations with others to identify areas for further analysis.
Some metrics may also provide feedback about the effectiveness of the facilities in supporting business operations (such as occupant satisfaction surveys and productivity metrics).
Facility management requires a lot of team coordination and touches all aspects of the organizations, so metrics also provide a useful tool to communicate with leadership, facility service providers, facility users, and other stakeholders.
Real time notifications of when some part of the facility is experiencing conditions that are not "normal."
Analysis of large data (facility usage patterns, weather, equipment settings, utility networks) to identify trends that are used to provide recommended actions based on forecast of likely future conditions.
Modeling to provide recommended changes in equipment operational settings to optimize performance, lifespan, and costs.
The emerging smart data technologies can facilitate our move away from today's blast of data to a filtered feed of metrics, so clarity about those will become important:
Use facilities management performance metrics and KPIs to focus attention. Facility metrics can help us turn vast amounts of facility data into a manageable amount of information. This helps us more easily ignore the noise and see what merits attention so we can work smarter and more efficiently.
Facility Metrics & Scorecards
Facility Issues can help you identity metrics of value and setup your custom facility scorecard that does not need new software or a dedicated analyst.