Facility Issues wants every organization to be able to use the wide range of facility related data they have in various systems to create an integrated scorecard for day-to-day facility management and strategic facility planning.  We offer facility scorecard services to help you setup and use your facility metrics. (Prior pages in this series discussed why facility metrics are useful, how to identify the ones that matter most for you, and how to use dashboards and scorecards to organize these metrics.)
Combine data from multiple systems: CAFM/CADD/CMMS/IWMS, finance, HR, lease, safety, energy management, and spreadsheets
Prepare monthly reports in minutes without needing an analyst
Craft ad hoc analysis with this data to address unplanned questions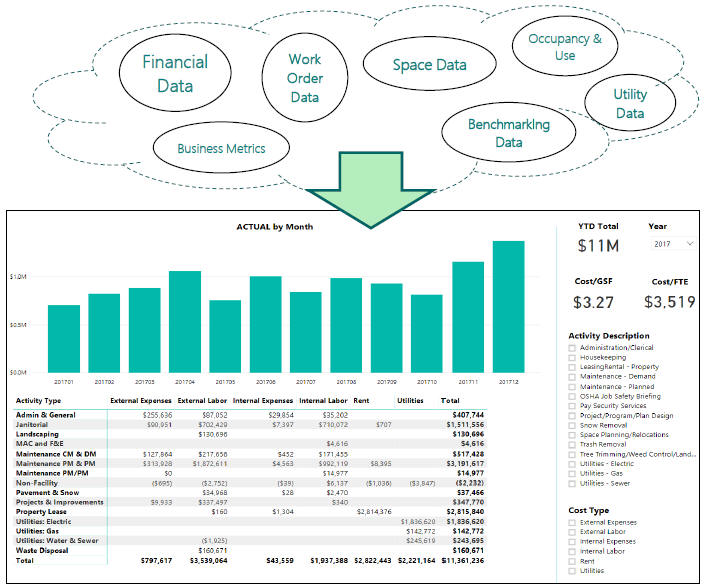 Most facility organizations use multiple systems for finance, work orders, and other facility data and the assembly of this can be complicated and time-consuming. Facility scorecard are the most convenient and cost-effective way to visualize the following metrics and KPIs for your facilities and operations:
Organization KPIs
Monthly budget variance
Operating cost metrics
Space metrics
Occupancy metrics
Utility usage metrics
Work order metrics
Facility condition metrics
Project metrics
Sustainability metrics
Safety metrics
Other/business metrics
Example Facility Scorecard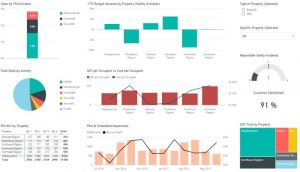 Here is a simple one-page live scorecard example that illustrates how it can work – your scorecard would be setup with the items of interest to your organization. Click the graphic to the left to open a new window, then you can select items on the scorecard to filter the displays (click an item to filter the data and click it again to clear the selection).
How Facility Scorecard Services Work
You can have the advantages of an integrated set of facility metrics using available data tools without spending a lot of time each month or a six-digit investment in software systems. Integrating your facility data is much easier and less expensive than integrating your various systems and provides you with the benefits of a central data repository. This can be especially valuable if you manage multiple properties. We have a three-step process:
Scoping Study –  Facility Issues will meet with you to review your data sources, draft a wireframe of the potential FM Scorecard, and outline the workplan to prepare it.
Scorecard Setup – Facility Issues will build a custom FM Scorecard as defined in the scoping study. Setup includes working sessions to review initial data, review draft scorecard, and a training session to review how to update the data and use the scorecard. The first year subscription is included (If you intend to have an internal setup, licensing fees may apply for any proprietary data modeling used in the scorecard).
Scorecard Subscription – Facility Issues makes your custom FM Scorecard available on the same online business intelligence system used for benchmarking.  We provide technical support, an annual review session and one set of minor revisions per year.
Guiding Principles for Our Approach
Our approach is to help you develop a monthly FM Scorecard that lets you draw on your data without needing a FM analyst. We use the following principles and assumptions for why you would use our facility scorecard services (priorities may vary by organization):
You Have Limited Data Staff. Your facility management group does not have dedicated analysts to manage your facility data and metrics. You do not have dedicated resources from an organizational performance or IT group for this, and do not have an enterprise business intelligence platform with robust facility management data. (You may be starting or planning to move to any of these but want an interim approach in the meantime to confirm or refine your needs.)
You Use Multiple Systems. You have more than one functional system for finance (tracking costs), facility asset management, facility work orders, space management, and other facility-related data. (If you primarily have one system for these functions, you should use that for your reporting and scorecard.) You expect to continue the use of these systems for their intended purpose and upgrade or replace them individually as appropriate.
Your Current Systems Perform Well Enough for Daily Operations. Your staff is trained on the use of your functional systems and you have good definitions and processes for the data in each. Your current systems also let you export this data. You will use the dashboards within your building management systems for real time operational needs. The scorecard will primarily be used for status/performance tracking, planning, and ad-hoc data inquiries/exploration.
It Needs to be Affordable. You would like an affordable facility scorecard system because you prefer to make your larger investments in new technology, smart data tools, and your facility data. (Or, you may want this to be affordable as a pilot/transitional program to demonstrate the value of a facility scorecard before investing scarce resources in a substantial system.)
It Needs to be Easy to Use. You need the facility scorecard system to be easy to update and use because it will need to be managed and used by the facility admin staff and managers, not dedicated analysts. This staff already has duties so have limited time to learn and use a scorecard system.
Your Current Data Quality is Adequate. You understand that a scorecard will help you integrate and use your facility data but does not address existing data quality issues. You also recognize that incomplete or partially incorrect data is adequate for many purposes of a scorecard.
You Want Facility-Centric View. You appreciate that a "managerial" view of facility data can provide useful insights for facilities management that are not as visible with traditional accounting and enterprise system reporting.