We understand that a key procurement function is to ensure that your organization is getting the best price possible for the goods and services you need to operate. But rebidding an existing facility services contract is not the best way to confirm the costs are competitive and may in fact cost your organization a lot of money.
Over the past several years, Facility Issues has been commissioned by different utilities to conduct comparisons of their facility outsourcing arrangements. These are the types of contracts that would generally be considered Integrated Facilities Management (IFM) because they cover a full spectrum of services – not just a specific service such as elevator maintenance. Many of these companies have been contracting these services for many years and are on their second or third contract, but some were new to or just moving to an IFM model.
We are sharing some of the key lessons learned so that your organization can approach this issue in an informed manner.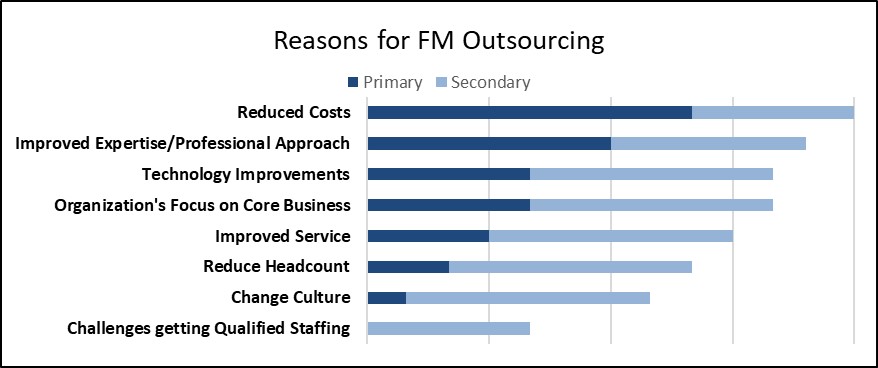 Reasons to Source Your FM (IFM) Services
Cost management is a primary reason for outsourcing FM services, followed closely by wanting to engage a professional FM approach, expertise, and being able to leverage advanced technology.  This in increasingly done in a consolidated service contract (Integrated Facilities Management).
While traditionally done in-house, FM is not a core business for most utilities leading to a variety of potential pain points.  But given the importance of reliable facility operations, the quality of service is as important as its cost.
Integrated Facility Management (IFM) Services
Let's take a minute to describe what is typically part of an IFM contract. We see the following main groupings of services, (your organization might group them differently):
Facility Management (Operational) services include building maintenance (mechanical, electrical, plumbing, fire/life safety, elevators, building envelope), custodial (cleaning, window washing, trash/ recycling), site maintenance (parking/pavement, grounds/ landscaping), and interior maintenance (painting, ceilings, carpets, lighting, task lighting, common areas). Many "soft" facility services such as conference room setup, catering management, etc. are usually included but may be on a fee schedule beyond the base contract.
Typically included with facility management services are associated subcontractor management, facility cost accounting, and KPI reporting. Storm support includes extended hours at occupied facilities. Some companies also include some facility management services such as janitorial, landscaping, structure repairs, fencing, at non-occupied properties like substations and communication sites.
Facility-related services include things such as mail, food service, space management (moves-add-changes), and other services (reception/security). Utilities typically own most of their properties, so the lease administration function for the occupied properties is included or ad-hoc. In most cases, the service provider's call center and work order systems are used. Facility technology systems are typically provided by the service providers as part of the contract.
Facility Project support services can include management of design and construction for facility renovation and improvement projects. Often this includes full project support for small projects, a base complement of project managers, and a Project Management office to coordinate/oversee larger projects that are bid independently. Again, these services might be included in a fee schedule beyond the base contract for work as assigned.
Rebid is Expensive
As a service that touches all company properties and employees, an integrated facility management contract is more of a strategic partnership than a buyer-supplier relationship. While costs are always important, the expertise of the service provider, performance, and ongoing working relationship are also key factors for a successful contract relationship.
There is a significant effort and expense associated with a transition to a new provider and even just rebidding a contract can be expensive and disruptive to the operations. Some key costs and issues that have been identified by Facility Issues in prior studies include the following:
Bidding and Procurement Costs: There is a cost associated with the time and effort for the company to conduct the bid, including scope development, qualifying prospective bidders, preparing data packages, pre-bid meetings, facility tours, bid evaluation, interviews, and negotiations. Prior assessments by Facility Issues have identified that these costs range from $100k – $350k for a "simple re-bid" and could be as high as $800k depending on the size and complexity of the portfolio and services included. So, one question should be whether you believe you can obtain savings to offset this initial cost.
Loss of Knowledge/Talent: A cost that we cannot quantify is the anxiety and turnover in the FM workforce during the bidding and transition process. Some organizations have lost key workers during a transition because they "thought" their job was in jeopardy due to the bidding process. (Don't think your service provider's staff is immune from this concern.) This can lead to service degradation before any change or even if no change is made. Given the current difficulty of recruiting/retaining qualified skilled workers, and the associated institutional knowledge of incumbent workers, this impact on the workforce and institutional knowledge warrants consideration.
Market Perception: Responding to an IFM tender takes significant effort on the part of any interested providers. To the degree it is perceived as a pricing exercise, you may not get good participation or truly competitive pricing (either high figures to make it worth their while to quote or low figures to get in the door with potential performance issues to follow).
Transition / Implementation Costs: These costs have been reported in recent years as ranging from $500k – $1m to complete the transition to an outside provider/new provider, with durations of up to a year by the time all the services and subcontractors are fully on-boarded and engaged (especially related to NERC/CIP requirements). Transition to new technology platforms add costs for data migration, staff training, and lost productivity during the transition period. It can be difficult to identify all the items that arise during a transition. Further complications with regulatory accounting may result in additional financial impact due to treatment of these costs (how they go into rate base and whether they are amortized in year one or over the contract life).
Now we can see that a re-bid is not a simple pricing exercise, but one with significant financial and operational implications
Benchmarking Can be a Better Way
The primary value of a service provider is to help the company manage its facility O&M costs. The most effective IFM contracts are some variation of "open book" where the provider gets paid a negotiated fee to manage the operation with the day-to-day costs passed through.
In this context, the fixed fee portion is a fraction of the direct operating costs (typically <5%). This suggests that managing the fixed fee costs is far less valuable to the organization than managing the total operating costs for maintenance, custodial, and utilities.

Moreover, it is worth looking at the total costs to determine the best overall solution of fixed costs, indirect costs, and direct operating costs rather than trying to optimize one portion of them. Even then, lowest cost for facilities is just one performance measure and needs to be balanced with service levels, facility condition, reliability, and sustainability.
Benchmarking can show how your facility provider is performing across multiple metrics in addition to costs. The priority of these sometimes competing objectives will vary by company, so we view performance in the second quartile on most metrics as competitive.  If your provider is keeping your total costs in this area (including the indirect costs such as their fee), then you are getting good value for the services, which is more important to your organization than just the service fee.
Participation in our Utility Facility Benchmarking program is a much lower cost way than rebidding to confirm that your facility costs and performance is competitive. And you can do it on an annual basis, allowing incremental course corrections and improvements even within existing service contract periods.
Why not use benchmarking to evaluate the TOTAL cost of fees and operating cost performance of your organization?
(And sustainability performance and more…)