About This Program…
This facility managers benchmarking program has been offered for over 25 years.  A diverse set of large companies across the U.S. have participated in this program, representing 158 million square feet of space at 85 sites. This benchmarking group grew from a regional group of high-tech firms in the southwest US, evolved to include aerospace and defense companies, then larger organizations of all types.
How we design and conduct the survey…
Each year, the group identifies desired changes to the benchmarking topics and definitions and refines the survey so that the benchmarking program evolves to stay relevant for changing facility management issues.
A primary focus is the cost of facility operations and services, practices, and other performance measures such as sustainability and occupant satisfaction ratings which provide a subjective evaluation on the quality of the services.
What is included in the facility managers benchmarking program…
The program includes a comprehensive facility benchmarking survey and special topic surveys that address questions about issues and practices beyond the benchmarking. Survey topics include:
Organization Demographics
Property Demographics
Property Service Levels
Space (composition)
Craft, facility supervision, and related staffing
Operating costs by activity
Sustainability metrics (utility consumption, waste)
Facility Condition
Summary work order metrics
Technology and practices
We incorporate data from all participants (each given an anonymous code) into a combined, interactive report so you can explore the data and customize displays compare your costs to those of other high-performing organizations.
Based on participation and interest, the program the program may include optional 2-3 day best practices / networking meeting, where participants can share and compare information. Participating organizations are encouraged to host this meeting and provide a tour of their facilities (registration cost for other participants).
What we benchmark…
We compare costs and best practices for space, condition, utilities, building maintenance, janitorial services, parking, grounds maintenance, building security, projects, facilities engineering, fixed occupancy, and environmental health and safety.
In addition, the benchmarking also includes section on services commonly managed by the facilities department:
Copy & Reprographics
Mail Services
Moves & Relocations
Food Services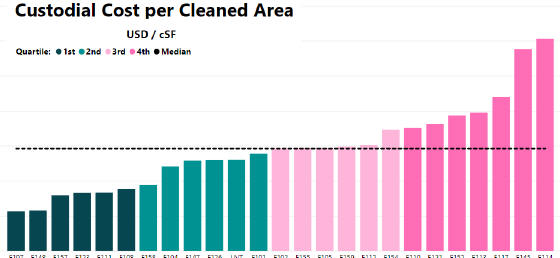 An example graph of custodial cost per cleaned area is shown above. Each participating organization is shown with a vertical bar. The various color shadings represent the quartiles and the horizontal black line is the median for the group.
You can include multiple properties in one "site" or add additional sites to be reported separately (discounts apply for additional sites).
or Contact Us if you need an invoice or purchase order.
Want to benchmark but need help? Read more about the facility benchmarking support services we offer.
---