Critical Facility Benchmarking Program
Critical facility benchmarking helps you assess your reliability maintenance operations.
See how you compare on your reliability maintenance work mix, staffing ratio and overall facility maintenance costs with our critical facilities benchmarking program.
Managers of critical facilities have all the normal concerns of facilities management: systems/equipment maintenance, daily facility operations, occupant satisfaction, and budget management.  In addition, there is increased emphasis on the reliability of the facility systems to support critical operations without undesired downtime.
What are Critical Facilities?
Critical Facilities include any building where downtime in the facility infrastructure presents a problem to the organization mission in terms of security, safety, public health, asset preservation, mission capability, or even major economic impact to the organization.  This includes many facilities within the critical infrastructure sectors.
Take this short quiz to see if you have a "critical" facility
About this group…
This benchmarking group is for anyone manages a critical facility or is responsible for their maintenance, budget, and operational reliability.  Participants find the benchmarking program to be easy, affordable, understandable, and relatively quick to complete
What the critical facility benchmarking program includes…
The structured critical facilities benchmarking program survey is run annually.  Participants complete the survey, Facility Issues reviews the data for reasonableness, answers questions, and compiles the results. The final data and results are provided in an interactive online report.  Participants are anonymous in the report and there is no identifiable information about specific facilities.
The critical facilities benchmarking program includes membership in the Critical Facilities Connect group, which includes access to online training, conferences and an online peer-to-peer exchange. (Already a member? Contact us for a benchmarking discount.)
Click here for a 2-page PDF overview of Critical Facilities Benchmarking
The benefits included in critical facilities benchmarking programs…
The critical facilities benchmarking program provides both tangible and intangible benefits to participants.  The benchmarking report provides a quantitative comparison of your facility operation and performance with other critical facility types.  These critical facilities benchmarking program results identify where you are performing well and where there are potential opportunities for improvement.  Our reports have been used by benchmarking participants to identify cost savings, justify proposed changes in staffing and budgets, and support initiatives for new practices.
The summit membership provides you with access to technical information and invitation to the annual summit with the opportunity to meet and network with your peers to learn and share best practices and state of the art processes and products.  This includes hearing other's experience in applying these practices so you can select and adapt your initiatives for better success.
How critical facilities benchmarking programs work…
We start with a common set of definitions that have been used over many years of benchmarking facility performance in various industries. Each year, these are clarified, and the topics of interest are adjusted as needed. The program is adapted to address the topics of most interest to group members.
Participants enter their data into a secure web form or Excel data template that uploaded to our system. There is online help and phone support as required to obtain data that is as consistent as possible. A progress review is done to identify any likely data quality issues, and we contact participants about any questionable data.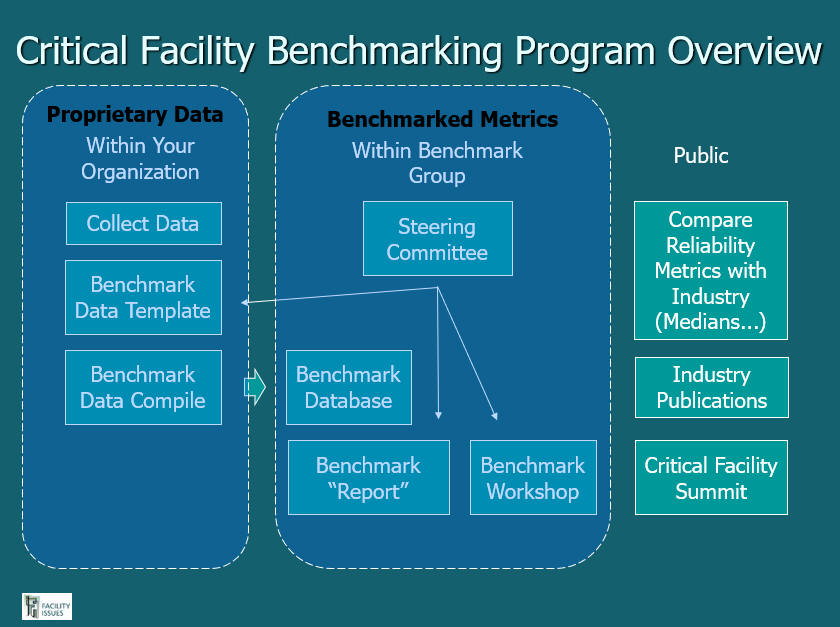 The results are made available to participants in an online business intelligence reporting tool. Standard pages of table and charts are provided, and participants can further refine the results by selecting data filters such as type of facility or geographic area. Each participant is assigned an ID code to keep participant's data anonymous but allow you identify where your facility(s) fall in the report.
The standard report is reviewed in a webinar and session at the summit (varies based on scheduling), along with Q&A on the reporting tool.
What we benchmark…
We benchmark facility-related costs of operation, reliability metrics, and other topics of interest to the group as identify by participants and the steering committee.  Additional "demographic" and practices data is collected to allow reporting to be segmented by type of facility, industry, geography or best practice.
or Contact Us if you need an invoice or purchase order
or it you are already a member of the Critical Facility Connect group.
Want to utilize one of our critical facilities benchmarking programs but need help? Read more about the facility benchmarking support services we offer.