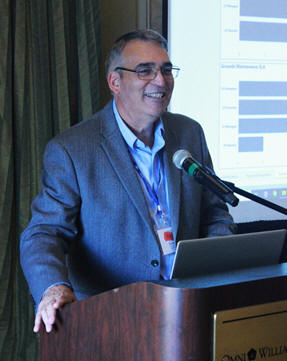 Robert Lambe, CFM, ProFM
In my 20+ years of corporate facility planning, I have noticed that many organizations do not have their facility data readily available and easy to use.
This is in spite of a wealth of operational data and other facility related data in most organizations
That is why I provide benchmarking programs and help organizations develop custom property/facility data solutions that support management and planning. The purpose is to enable facility leaders to position their properties/operations to best serve their organization mission.
Unlike association benchmarking that just provides industry averages, or management consultants who provide expensive one-time studies, we help organizations have their facility data on hand for quick and easy use for a wide range of purposes.
So if you are fed up with having to scurry around to pull together data when you need to assess and plan improved performance, lets have a chat about your situation: https://calendly.com/lambe/
Bio
Robert Lambe is the president and owner of Facility Issues, which provides facility benchmarking and strategic facility planning services. Bob helps companies use available information to better understand their facilities assets and facilities management operations for improved performance.
Bob started his professional career working with a county planning agency reviewing development proposals for compliance with local regulation and best practices. He continues in a similar role serving on the Marcy Town Planning Board for the past 20 years where he is Chair and Economic Development Coordinator.
He then worked for an architecture and engineering company where he was project manager or planning/site design lead for over 80 projects, including site selection, master plan, land development, and environmental impact studies.
Bob was recruited into a new facility planning group at Niagara Mohawk (now part of National Grid) where he worked for 19 years. Initially he was responsible for strategic planning for 4.2 million GSF of buildings and grounds at 123 locations and prepared "go/no-go" project business cases for executive decisions. He ultimately became responsible for Special Projects reporting to the Vice President of Facilities. Assigned activities were those outside of normal facility engineering and management operations such as CAFM/CMMS implementation, Business Continuity Planning, and as key FM team member for two corporate mergers.
Bob then worked for a facility software company helping clients implement their IWMS system as part of their property management function. When that company was purchased, he became Managing Partner of a consulting firm that helped multi-site companies with long range property portfolio planning by using strategic location modeling. In 2017 he acquired Facility Issues to provide benchmarking and facility metrics services as a foundation for organization's strategic facility planning.
Connect with Robert: https://www.linkedin.com/in/lambe/