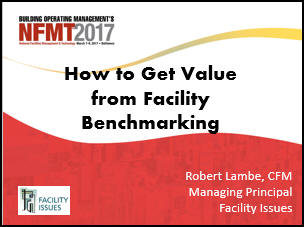 Bob Lambe of Facility Issues presented on the value of facility benchmarking at the 2017 NFMT conterence in Baltimore.
If you have been considering benchmarking your facility management operations, see this presentation given at the 2017 NFMT conference.  Six steps in the benchmarking process are outlined, along with key take-away on how you can get value from each step of the facility benchmarking process.
Benchmarking is an easy and affordable approach to evaluate your operations and identify potential areas of improvement. Review the presentation and get started today!