While big data, machine learning, and artificial intelligence offer great promise for facility management, many facility groups are just starting to acquire and deploy these advanced systems.
This presentation on "FM Metrics: Day-to-Day Data" given at NFMT 2020 on Tuesday, March 17 outlines how to identify useful facility data/metrics that you can setup now with available and affordable small data approaches and transition to emerging new data technologies as you adopt/implement them.
We hope our handouts help you use facility data and metrics to improve your operations. Please take a two minutes to answer this short 4-question survey to help us continue to improve the resources we provide.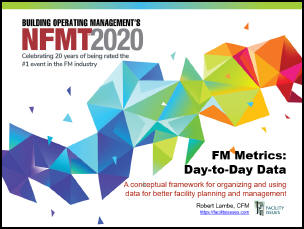 Click on the image to download a copy of the presentation handout.