Use the wide range of facility related data you have in various systems to create an integrated scorecard far more economically than integrating all your software systems.
Combine data from multiple systems: CAFM/CADD/CMMS/IWMS, finance, HR, lease, safety, energy management, and spreadsheets
Prepare monthly reports in minutes without needing an analyst
Craft ad hoc analysis with this data to address unplanned questions
This scorecard can include the space and occupancy of all your buildings/areas, monthly budget variance reporting, financial KPIs, other facility performance factors, and any data that you benchmark.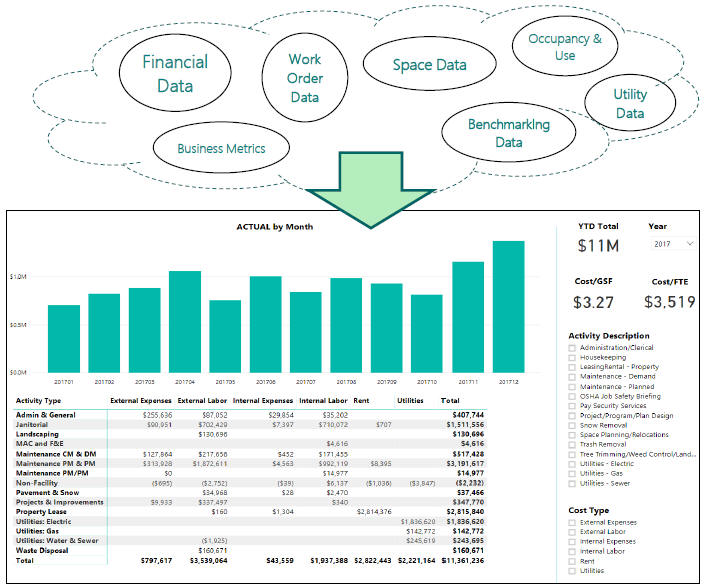 How it works
Use standard data export available in your various source systems:
Configure our template based upon the data types and structure of your systems.
Place the monthly data export files in designated folders on your network.
Open report and click update.
Your scorecard is ready to use.
In most cases the template setup and configuration can be done in just a few weeks.  Contact us to schedule a free review of your situation.
See an Example
This is a simple one-page example of what a scorecard could be – there are only a couple options to select to change the display but it illustrates how it might work for you. Click on the graphic below to open a new window with a live example scorecard/dashboard. On the dashboard click an item to filter the data and click on it again to clear the selection.