Facility cost benchmarking lets you know what your facilities really cost.
The main reason most organizations participate in facility cost benchmarking is to understand all their facility-related costs, and to see how they compare to other organizations like them.  Our cost surveys include the many categories of facility-related costs, which are typically scattered in different budgets to allow participants to see the complete cost associated with their facilities.
Our cost surveys play a critical role in the benchmarking process.
Facility Issues offers web-based facility cost benchmarking surveys for those who participate in any of our established benchmarking groups.
General (any industry):
Core Metrics (short version)
Specific Industries:
We design and build each survey based on input from a steering committee. The surveys are designed to not only measure performance in key areas of facility management but also to identify best practices and industry trends. Although we update the surveys each year to address emerging concerns, we always collect data related to space utilization, operations and maintenance, and best practices.
How we conduct the facility cost benchmarking surveys…
You enroll in a group online. After we process your payment, you receive an email with instructions for accessing your survey.
You complete your survey over a period of about 4 months. You can complete the survey in increments and delegate data collection to appropriate staff in your organization.  Your data is assembled and entered either in an Excel template or our online form.
We analyze the data from all of the participants in your group. This usually takes about a month. Facility Issues offers webinars to help you with this process.
We prepare a draft report that you can download.
The group gathers at a conference, meeting, or workshop to discuss the results of the survey.
After you review the draft report and provide comments and revisions, we finalize it.
What you can expect to see in each report…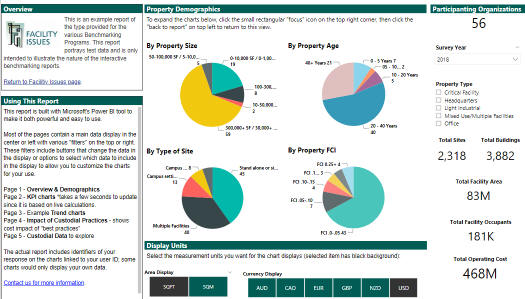 The facility cost Benchmarking Report contains graphs, charts, and tables comparing costs for various aspects of facility management across the entire group. We also compare results for current and previous years to assess trends.
In addition to costs, we also have a number of other metrics as well as a comparison of the policies and best practices used by participants.  These practices are frequently discussed in depth at the benchmarking workshops/networking meetings of each group.
How participants use the report…
Most participants review the report to understand how they compare with the group and to identify areas of potential opportunity for improvement (improved quality, lower cost, lower risk). It provides a basis for not just where improvement is possible but also how much value is realistic.
Some participants will share results and trends with their facility staff, some use portions of the report as part of their department's annual metrics to executives.  Some use data from the report as the basis for proposed budgets when major changes are proposed; others use it for backup in reviews with regulators and during funding reviews.
Contact us for a discounted rate as a new participant.