Facility Issues is providing free Energy Use Intensity benchmarking for any cultural institution that wishes to participate.  This is an easy and anonymous program for any size organization and a great way for you to use a simple metric for both cost and sustainability performance.  Help us establish good data on energy use ranges for cultural facilities.
Free Energy Use Intensity (EUI) Benchmarking for Cultural Institutions
EUI is one of the key facilty metrics related to both sustainability and cost management.  Energy efficient facilities have lower utility costs and a lower carbon footprint.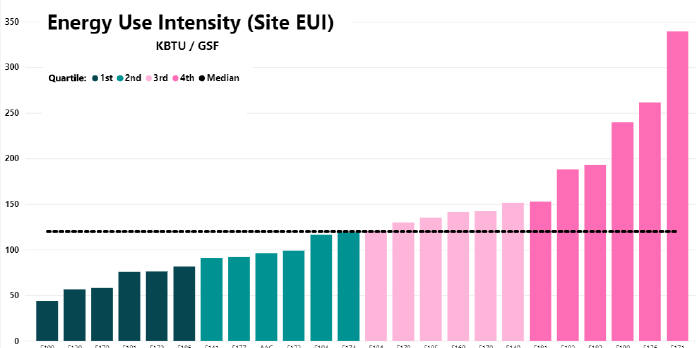 This requires only two main data items: your energy use (by type for your different types such as electricity, natural gas) and your gross floor area.  We will also ask some other classification questions such as type of institution and location for administrative purposes.  This report is updated monthly.
Download the EUI Benchmarking Worksheet to see the data you will need.
There is no cost to participate in this program but we need you to register as a real person (with your work email) , agree to the terms, and submitting authentic data.  After you enroll, you will receive an email (usually within 24 hours) with instructions on how to enter your data.
See other participation options